GAMING PC BUNDLE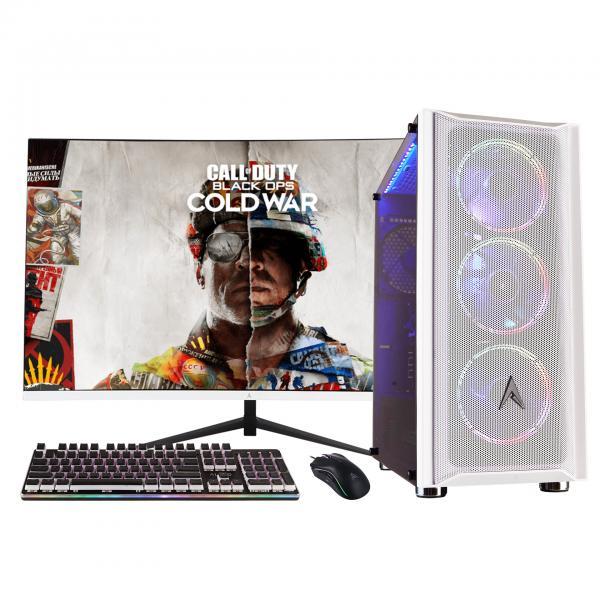 So you've built your dream system, meticulously picking out parts that perfectly fit your needs. Now it's time to take your setup to the next level by choosing the perfect gaming peripherals because, as is often the case, having the right tools makes all the difference. You need peripherals that both fit your gaming style and that take advantage of your PC's specs. Luckily, here at Allied, we offer a wide range of gaming accessories so you can create your ultimate Allied PC gaming bundle.
KEYBOARDS
Keyboards are both an essential part of a gaming setup and one of the most personal parts. For entry-level gamers who aren't sure of their preferences yet, there are more standard options. For those who know exactly what they want, there are more customizable options. From RGB light styles to key-switch types, there's a keyboard out there for everyone.
One major component of every mechanical keyboard is its switch type. A switch is a piece under the keycap that, when pressed down, registers a keystroke. Different switch types, labeled based on their color, have different tactile responses, auditory responses, and actuation force.
A tactile response is how strongly you feel the key when you click it. Auditory feedback is how loud of a click you hear when you press down on a key. Actuation force describes the pressure needed to click the key. Red switches are one of the most used switches on the market. They have low tactile responses, auditory responses, and actuation force, meaning they're almost silent, and they provide a smooth, quick typing experience. Black switches are very similar to red switches; they have low tactile and auditory responses. However, their actuation force is higher, requiring a little more pressure to press each key. Blue switches have the same actuation force as black switches but with high auditory and tactile responses.
SPARROWHAWK
Here at Allied, we offer two high-quality keyboards for you to choose from. First, we have the Sparrowhawk RGB Mechanical Gaming Keyboard. If you're designing your first gaming setup, the Sparrowhawk is the perfect entry-level mechanical keyboard. This lightweight, high-quality, and water-resistant keyboard has a high response rate that's perfect for gaming. It also has black switches, so your key clicks won't interfere with your voice chat. It comes preset with 21 RGB variations so that you can incorporate your favorite color or colors into your dream gaming setup.
FIREHAWK
If you're looking for a more premium gaming experience, we also have the more customizable Firehawk RGB Mechanical Gaming Keyboard. It has a lightweight aluminum construction but is still highly durable. The bottom half of every keycap is translucent, allowing one of the one hundred and four programmable RGB variations to luminously shine through. The Firehawk has red key switches. If your gaming style requires fast clicks with a high response rate, the Firehawk with these switches is for you.
MOUSE
Every gaming setup needs a high-quality, reliable, and comfortable mouse. Our Flashbang RGB Gaming mouse perfectly fits that bill. Every button is fully programmable, so you can customize the mouse to your ideal layout. It also comes with vivid RGB LED lighting, so you can match your mouse's color palette to the rest of your gaming setup. Finally, this mouse takes the cake with its adjustable DPI range that maxes out at an extraordinary 6400 DPI, perfect for a gaming style that requires fast reaction times and accurate aiming.
HEADSET
Whether playing single-player or multiplayer games, every gamer needs a high-quality headset as a part of their setup. Many games use sounds to signal important events, so you must be able to hear the game's audio clearly. Our Warhead 7.1 RGB Gaming Headset provides an impeccable experience when playing any and all types of games. It has a self-adjusting headband and comfortable ear cups, both designed to counter headphone fatigue, so you won't notice the time fly by. It also has a noise-canceling microphone so that no external noise will come between you and your teammates. Lastly, it features 7.1 surround sound to give you a life-like gaming experience.
GAMING SURFACES / MOUSEPADS
It's important to use a mousepad to protect your desk from scratches and to take advantage of the smoothness and speed your mouse has to offer. Our Tacmat RGB Gaming Surface is not your grandma's mousepad. It has a sleek black design, surrounded by vivid RGB lighting options that can be configured to match the rest of your gaming setup. Its smooth, seamless surface allows your mouse to achieve its highest potential. The Tacmat comes in two sizes: 30 x 30cm, 80 x 30cm. The 80 x 30cm mat has an additional option that includes an integrated wireless charger for your mobiles and other compatible devices.
MONITORS
A monitor can make or break your gaming experience. Gaming monitors, like ours, are specifically designed to take full advantage of your PC's graphics card. Our monitors are perfect for PCs with entry-level and mid-tier graphics cards. All of our monitors have a display with 1080p resolution and a 12ms response time, but they vary in size and refresh rate. Our smallest option, and the best option for gamers with entry-level PCs, is our 23.6″ and a 27″ monitor, both of which have 75Hz refresh rates. Our highest tier monitor is our Expanse 31.5″ Curved Gaming Monitor, which offers a lightning-fast 165Hz refresh rate plus FreeSync to guarantee a smooth, flawless gaming experience.
If your PC has a higher-tier graphics card, we recommend a monitor that can match the display resolution that your graphics card can provide. For example, a 32″ Curved Monitor with a 144Hz or 165Hz refresh rate, 4ms response time, and 1440p resolution, would be ideal for a high-tier, 1440P capable card, while if you want to take it a step further, up it to a 4k or even 8k monitor to match your RTX 3080/RX 6800 XT or RTX 3090/RX 6900 XT's maximum output resolution.